---
Microcon is the Factory Authorized Service Center in North America for

Converting & Printing Presses - Water & Solvent Base
Lamination & Converting Equipment
Automotive Balancing Equipment

Specializing in AC & DC Rotating Electrical Machines

Industrial Controls & Automation
Microcon is FAST Factory Authorized Distributor & Service Center
| | | |
| --- | --- | --- |
| | | |
| Control Techniques Quantum & Mentor Drives | Powertec Brushless DC Motors | Control Techniques Unidrive SP AC Drives |
| | | |
| CMC - ITT Webpro | Millennium Brushless Drives | Control Techniques Commander SK AC Drives |
| | | |
| CMC-ITT Pacemaster DC Drives | Control Techniques Matador DC Servo Motors | Brusatori DC Laminated motors ML Series |
---
Unidrive M AC Drive by Emerson Control Techniques

Performance drives for a greener world

Unidrive M AC Drive


NEW! Unidrive M – Dedicated AC Drive for Manufacturing Automation – 0.33hp-1,600hp (0.25 kW - 1.2 MW)

Control Techniques' AC drive family designed specifically for Manufacturing Automation applications
---
Digitax ST Servo Drives

Performance drives for a greener world

Compact Servo System
6 to 170 lb-in continuous torque 230V or 460V


Introducing a new family of servo-drives, with unprecedented connectivity, feedback options, intelligence and functionality has been launched by Control Techniques targeting the general Machinery Automation market.
---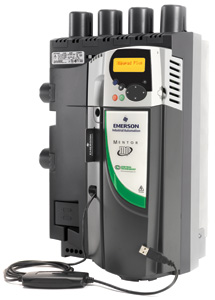 Mentor MP DC Drive Drive
Performance drives for a greener world


Mentor MP
25A to 7400A, 400V / 575V / 690V
High performance DC drive
Mentor MP is Control Techniques 5th generation DC drive and integrates the control platform from the world's leading intelligent AC drive, Unidrive SP. This makes Mentor MP the most advanced DC drive available, giving optimum performance and flexible system interfacing capability.

Metals - Crane & hoist - Test rigs & dynamometers - Magnetic grabs - Elevator - Tire & rubber - Wire drawing - Paper - Marine - Winders - Extruders - Glass - Materials handling - Fair ground rides - Spindle drives - Crushers - Active front end for DC Bus connected AC Drive systems
---
Performance drives for a greener world

(0.75 to 4.0kW) The Benchmark for Simple AC Drives

The new Commander SK range of general purpose AC drives is designed for quick and easy set-up of simple applications, but scratch the surface and enhanced functionality is at your fingertips

Commander SK AC Drive

(0.37 to 7.5kW) AC Drive
A 'cabinet-free' drive solution IP66 NEMA 4X

For tough, wet and dusty environments.

Designed for factory wash down with pressure hose, and detergents.

Wall or machine mounting - no extra cabinets required

Commander SX AC Drive
---
New

Compact Commander SK for 3kW to 7.5kW motors
We have added a frame size in the middle of the Commander SK range (pictured to the right); the new frame Size drive D is approximately 40% smaller than its predecessor, Size 2, and offers ratings from 200V, 1 phase at 3kW up to 400V, 3 phase at 7.5kW. We believe it is the most compact 7,5 kW drive available worldwide.
Further additions to the range are 0.25kW and 0.37kW, 110V input, 200V output. These are produced in the smallest frame size, Commander SK Size one.
---
---
Microcon Technologies Inc.
1105 Crestlawn Drive, Unit # D8 & D9
Mississauga, Ontario L4W 1A7 Canada
Tel: (905) 602-4770
Fax: (905) 602-4779
e-mail: sales@microcontechnologies.com
Website: www.microcontechnologies.com
---
Updated April 24, 2013
Copyright © 2009 All Rights Reserved
© Microcon Technologies Inc.
---