0.33 hp – 200 hp (0.25 kW – 132 kW) Normal Duty
0.33 hp – 150 hp (0.25 kW – 110 kW) Heavy Duty
115 V | 208 - 240 V | 380 - 480 V
Commander variable speed drives have established the standard of excellence in motor control since 1983 when Control Techniques launched the first world commercial vector drive. Since then, Commander has undergone several successful enhancements, each time bringing new technology and innovations to the world of automation.
The new Commander C series has been designed to be a simple and compact AC motor speed controller that meets advanced requirements for a wide range of applications while optimizing the user experience.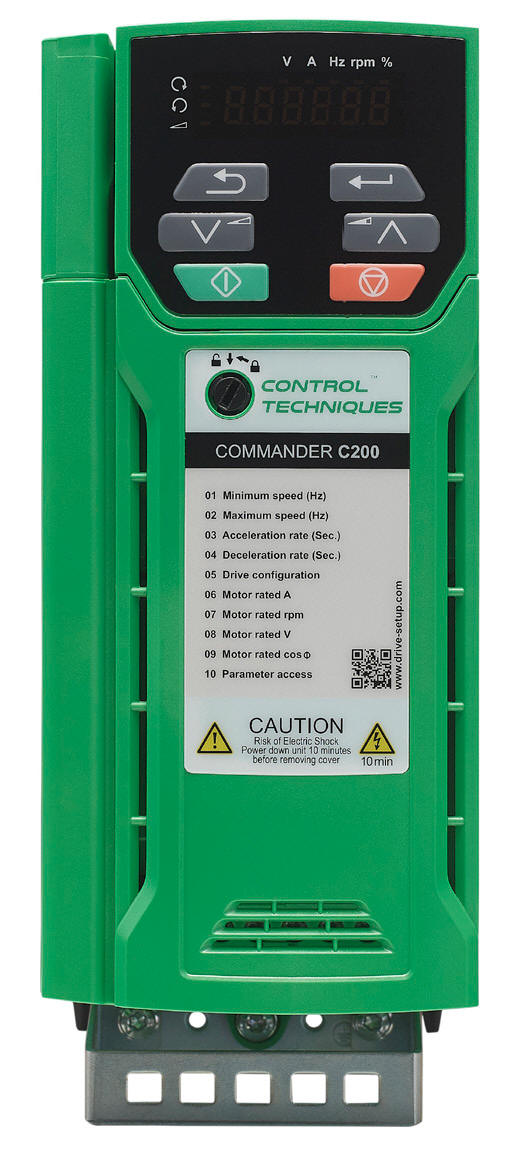 Commander C Highlights
✓ Set just 4 parameters to get your drive started
✓ Plug-in options for advanced control
✓ Dual Safe Torque Off (STO)
✓ Equipped with the latest energy saving features
✓ Up to 180% overload for high torque applications
✓ On board PLC
✓ Straightforward installation and commissioning
✓ Easy motor pairing and performance control
✓ Robust and reliable design
Simple set up. 3 steps to control
Setting up a drive can require training, specialist knowledge and time.
But Commander C will get you up and running, from out of the box to controlling your motor, in minutes.
Three simple steps will set up your drive for most fan, pump, compressor, conveyor and general purpose applications!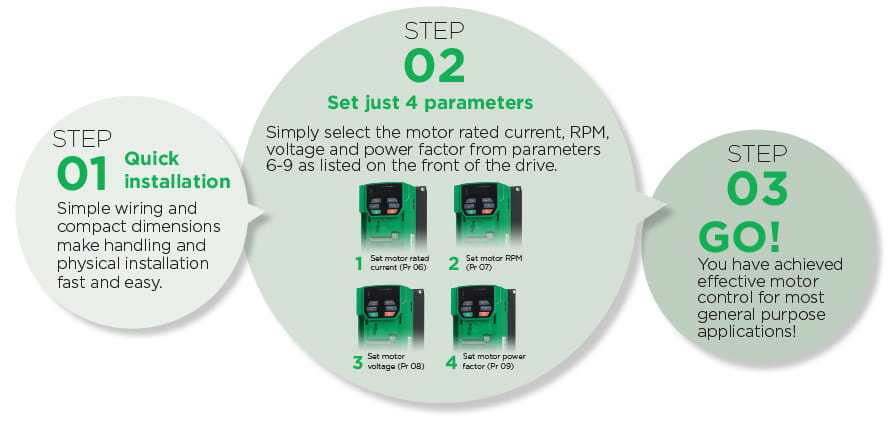 Commander C200 AC Drives
Enhance throughput with machine safety, communications, and built-in PLC
Commander C200 AC Drives
Enhance throughput with machine safety, communications, and built-in PLC
The Commander C200 delivers benchmark functionality at no added cost to the base drive itself. Plug-in options, dynamic performance, PLC functionality and other advanced features such as fieldbus, Ethernet, and Modbus RTU communications ensure that in more complex applications Commander C200 can deliver more than the average general purpose drive - giving you lower cost solutions and better productivity in your motor control applications.
Enhance up-time and system flexibility
Flexible system integration and remote diagnostics through optional industrial Ethernet and fieldbus communication
Flexible I/O expandable with SI-I/O option module
Enhanced functionality and onboard PLC programming provides a low-cost system solution, minimizing the need for additional equipment such as PLCs
High performance open-loop motor control
RFC-A (Rotor Flux Control) algorithm for exceptional induction motor control of demanding applications
Closed loop current control without a position feedback device
Speed control for conveyors, fans, pumps, and mixers, where their function is controlled remotely with fieldbus or Ethernet communication
s
Key data
Heavy Duty Ratings: 0.33 hp to 150 hp (0.25 kW to 110 kW)
Normal Duty Ratings: 0.33 hp to 200 hp (0.25 kW to 132 kW)
Supply phases: Frame size 1 and 2: 110 V drives 1Ø, 230 V drives 1Ø or 3Ø; Frame size 7 and larger 3Ø; 460 V drives 3Ø
Control connections: 2x Analog inputs, 4x Digital inputs, 1x Analog output, 1x Digital I/O, 1x Relay
Drive rating: IP21 / UL open class as standard
Keypad: Fixed LED
Option slots: 1 (frame size 2 and above)
Parameter cloning via: PC tools, SD card
Voltage ratings
100 / 120 VAC ± 10%

ü

200 / 240 VAC ± 10%

ü

380 / 480 VAC ± 10%

ü

Control mode
Open loop vector or V/Hz induction motor control

ü

Open loop Rotor Flux Control for

induction motors (RFC-A)

ü
Commander C300 AC Drives
Enhance throughput with machine safety, communications, and built-in PLC
Commander C300 AC Drives
Commander C300 provides flexible integration with safety and communications.
Commander C300 is ideal for applications that require cost-effective integration into
safety systems. With two Safe Torque Off (STO) inputs, onboard PLC and an SI interface
for industry standard fieldbuses, Ethernet or extended I/O options, this feature set
ensures Commander C300's flexible integration with any system.
Enhance up-time and system flexibility
•
Flexible system integration and remote diagnostics through optional industrial
Ethernet and fieldbus communication
•
Flexible I/O that is expandable with SI-I/O option module
•
Enhanced functionality and onboard PLC programming provides a low-cost system
solution, minimizing the need for additional equipment such as PLCs
High performance open loop motor control
•
RFC-A (Rotor Flux Control) algorithm for exceptional induction motor control
of demanding applications
•
Closed loop current control without a position feedback device
•
Speed control for conveyors, fans, pumps, and mixers, where their function
is controlled remotely with fieldbus or Ethernet communications
Key data
Heavy Duty Ratings: 0.33 HP to 150 HP (0.25 kW to 110 kW)
Normal Duty Ratings: 0.33 HP to 200 HP (0.25 kW to 132 kW)
Supply phases: Frame size 1 and 2: 110 V drives 1Ø,
230 V drives 1Ø or 3Ø; Frame size 7 and larger 3Ø;
460 V drives 3Ø
Control connections: 3x Analog I/O, 5x Digital I/O, 2x STO, 1x Relay
Drive rating: IP21 / UL open class as standard
Keypad: Fixed LED
Option slots: 1 (frame size 2 and above)
Parameter cloning via: PC tools, SD card
Voltage ratings
100 / 120 VAC ± 10%

ü

200 / 240 VAC ± 10%

ü

380 / 480 VAC ± 10%

ü

Control mode
Open loop vector or V/Hz induction motor control

ü

Open loop Rotor Flux Control for

induction motors (RFC-A)

ü